David Lawless

(Professional)
Films
David Lawless: Director/ Producer
The Passion in the Cup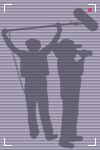 David Lawless: Director
Bio
Public Bio
A freelance documentary director & producer based in Dublin.
I have a passion for peoples' stories. Using my many years of filmmaking experience I try to bring these stories to the screen in a dynamic, visual and sensitive way. My core strengths are attention to detail, a keen interest in the way that we as people interact and live our lives and an extensive and multi-disciplinary background meaning I can leverage many different styles and approaches to achieve the right tone, to coax the best out of a story and to present it to an audience in a visually and emotionally engaging way.
Whether it's originating a new concept or bringing my visual and storytelling skills to an existing project, I excel under pressure and strive to get the very best out of every scene and every budget.
I'm currently on a 12 month contract producing and directing Prime Time, the flagship current affairs programme for RTE, Ireland's national broadcaster.