Michael Oved Dayan

(Professional)
Films
Michael Oved Dayan: Director, Producer
On a doctor's philanthropic mission to Tibet, he receives more than he could ever imagine.
Michael Oved Dayan: Director, Producer
A documentary about transforming childhood trauma into sparks of creativity.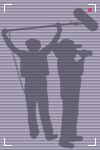 Michael Oved Dayan: Director, Producer
Bio
Public Bio
I developed my filmmaking style from my teaching of ethnographic research methodologies, interpersonal communications, film theory, and psychotherapy theory at Royal Roads University, University of the Fraser Valley, and City University. Rather than work with a large team, I opt for intimate conversations with my film subjects and thus I operate my own camera and conduct my own interviews. I enjoy working with a low-budget and making my own creative decisions. My films have played at a number of international film festivals and on CBC television in Canada. My first film, Glimpses of Heaven, is a feature-length documentary that featuring artists who draw on their creative resources to transcend childhood traumas. It won "Best Director" at the 2007 Las Vegas International Film Festival and "Honorable Mention" at the 2007 Rhode Island International Film Festival. My second film, High Plains Doctor, premiered in competition at the 2013 Santa Barbara International Film Festival and on CBC documentary, where it was geo-blocked to Canada. I'm currently in post-production on my third film, a feature-length documentary about descendants of high-ranking Nazis who have converted to Judaism. Making biographical documentaries enables me to explore redemptive narratives of personal growth.